"Then he saith to Thomas: Put in thy finger hither, and see my hands; and bring hither thy hand, and put it into my side; and be not faithless, but believing." (John 20:27, Douay Rheims)
The joy of Easter remains a promise and not yet come to fulfilment for all those who still suffer political persecution in Malaysia.
As Catholic Christians and christians of all denominations, the resurrection of Jesus Christ gives us a new birth to a living hope…the hope that leaders of governments will work to ensure that all people can live in harmony, equality, justice and peace, in full and true freedom; that the power of Christ's resurrection will destroy the culture of corruption, the culture of death!
A certain expectation is in the air in Malaysia.

Like the disciples on the road to Emmaus, the people in Malaysia have grown downcast and sometimes deeply distressed over the last 50 years or so…they have hoped that things would change for the better…that the corrupt government would change.
So far, all their hopes have come to nothing.

Yet, their hearts are still burning…Could it happen this time?

Yes, Jesus…let your love, mercy and grace come upon this land.

Yes, like the disciple Thomas, we will doubt no longer but believe.
"Behold I will cut off all that have afflicted thee at that time: and I will save her that halteth, and will gather her that was cast out: and I will get them praise, and a name, in all the land where they had been put to confusion." (Prophecy of Sophonias (Zephaniah) 3:19, Douay Rheims)
On this week leading to the Divine Mercy Sunday, the Parliament of Malaysia has been dissolved…another expectation is in the air…that of the 13th General Elections…where new State and Federal governments will be elected by the people…that is, if the country has a clean and fair elections, including clean electoral rolls; not one that has been tampered by the ruling government, one that contains phantom voters!
We trust and believe with confidence that as Jesus Christ bore our wounds to heal them, He too will heal the land and the people across Malaysia. Let His glory and justice shine forth on His people.

Jesus continues to reassures us by His wounds that He is no stranger to our human flesh and its suffering.

Let us always place all our trust in Jesus.
"Who then shall separate us from the love of Christ? Shall tribulation? or distress? or famine? or nakedness? or danger? or persecution? or the sword?" (Romans 8:35, Douay Rheims)
As the disciples, on the road to Emmaus has hoped that Jesus of Nazareth will be the one that set them Israel free, the people of Malaysia…Christians in Malaysia are quietly hoping that the Opposition will simply return victorious and set Malaysia free.
No matter how weak we are, Jesus is our strength; no matter how empty we are, Jesus is our fullness; no matter how sinful we are, Jesus is our holiness.

All we have to do is to cry put His holy Name. Jesus will protect us from all evil.
"Neither is there salvation in any other.

For there is no other name under heaven given to men, whereby we must be saved." (Acts of the Apostles 4:12, Douay Rheims)
As the incumbent ruling government machinery continue abuse federal funds and spread lies, commit crimes, buy votes, provoking religious freedom, cook up conspiracies, practice selective persecution, creating media chaos, preaching sex tales and manufacturing of porn video tapes in order to desperately hang on to corrupt power, each Malaysian Christian must feel, during this Easter season, duty bound to exercise their right and responsibility to decry crimes against our fellow citizens.
This time, the people of Malaysia will exercise responsible stewardship and decisively decide that the rotten and corrupt crooks in the Barisan Nasional government must be absolutely destroyed and evaporated once and for all time.
Christians in Malaysia have a moral obligation to do what is right and maintain Gospel values; that no one is exploited for personal gain, that everyone can practise religious freedom and have good access to basic human needs.

Let all Malaysians vote for a new Malaysia! Alleluia! Alleluia!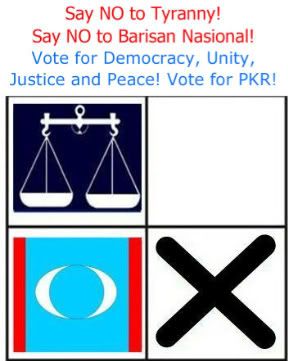 Let Christians and pilgrims the world over simply pray for the people of Malaysia during this month leading to the 13th General Elections...that Justice will surely prevail.
For the Sake of His Sorrowful Passion, have mercy on Malaysia and her People!
Blessed and Joyful Easter to All Pilgrims the World Over.